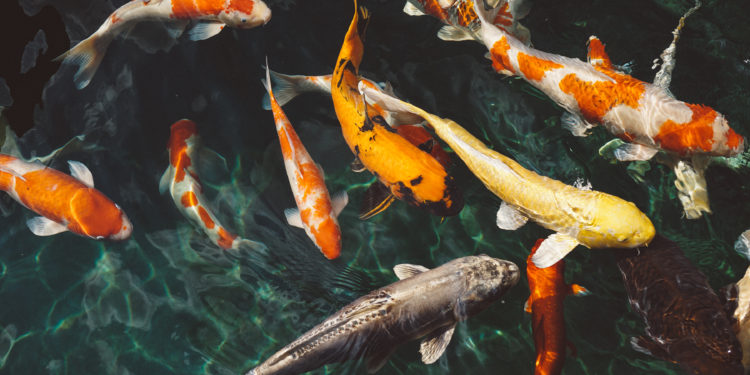 One question we get frequently is, "What are the average koi pond prices in Colorado Springs?"  The short answer is, "It depends."  Just like when shopping for many other items, there are base costs and then upgrades, which can in many cases increase the price quite a bit.
When shopping for a pond contractor service in the Colorado Springs area we suggest you do your homework first and make sure you are hiring a true pond contractor.  Many landscape companies claim to build koi ponds and other types of water features, but often are not qualified.  Think of a koi pond contractor like a specialist.  Would you want your General Practitioner doing your knee surgery?  Probably not!
Koi Pond Prices
A basic-sized fish pond would be about 7′ x 10′ feet and about 18 inches deep (max depth).  If its constructed with the necessary components (mechanical & biological filters), rocks, aquatic plants and fish, the cost is probably in the range of $7-$10,000.  You can easily increase that price to $12-$15,000 if you want to add things like:
Fish Caves
Algae Control System
A longer Stream
Lights
Colorado Pond Pros has built several hundred ponds over the past 16 years in the Colorado Springs, Longmont and Denver areas.
Smaller Koi Pond Prices
Not ready to spend $8-$15,000 on a koi pond?  That's ok!  We can also install smaller water features that fit your budget.  Some of our smaller features, like Spillway Bowls or Bubbling Rocks start at only $3-$4,000 and are a great way to introduce your family to the water gardening lifestyle!
When you're ready to build your koi pond in the Colorado Springs area (or anywhere along the Front Range) please reach out to Colorado Pond Pros!