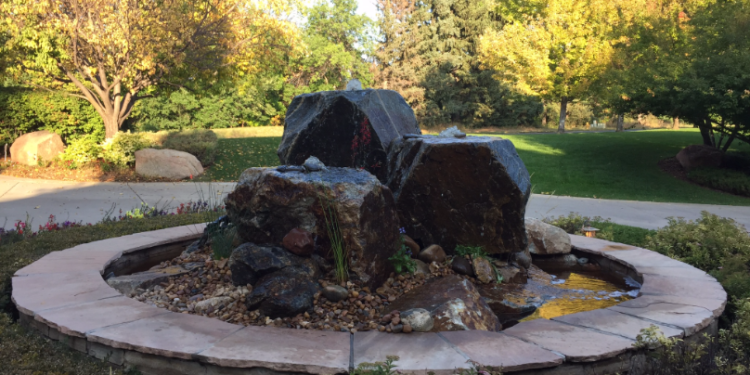 Looking for the sound of water and an artistic look? Our bubbling rock fountain options will catch your eye. We have all sizes of :
Spillway bowls
Fire fountains
Bubbling urns
Water walls
Bubbling rock fountains
Patio Ponds
Spitters
Our Bubbling Rocks Water Feature Fountain Options
These can stand alone or be added into a pond or stream! We have a variety of beautiful bubbling rock fountains that can accentuate your outdoor landscape for an eye catching design. Learn more about the benefits of an outdoor water feature here.
Bub
We have fire fountains in 24 inches, 28 inches and 32 inches.
Round Patio ponds come in green slate, desert granite or European Terra Cotta in 24 inches, 28 inches and 32 inches.
The square patio ponds are gray slate and come in 22 inches, 27 inches and 33 inches.
ling Rocks, Bowls and Fountains
EXPERIENCE & PASSION FOR PONDS
We work closely with our customers to build trusted, long-lasting relationships.
Colorado Pond Pros is a Master Certified Aquascape Contractor. Aquascape is the company that sets the standard of quality in the pond industry. They train and certify contractors like us! When you hire us, you know you are working with pond experts who receive ongoing training with the best contractors in the world. When you choose us, you're choosing professionals who have received quality training specifically for waterfeatures. Our technicians know pond design, service and maintenance.
We work with Mother Nature to build you the outdoor living space of your dreams.Building a waterfeature takes expertise. Companies that excel in building other things like outdoor kitchens and patios may not be expert pond builders. When you commit to a waterfeature build from your favorite landscape contractor, find out: * Are they Aquascape Certified? *What experience do they have in building waterfeatures?*What is their Better Business Rating?*Can you see some of their waterfeature work? While anyone may be able to build one, it takes a Master to build it in such a way that it will not nly function and be little maintenance, but stand out in the landscaping as a work of art! We often work with landscape companies who provide expert landscape design and work while we bring experience and passion for waterfeatures to the table. Check out