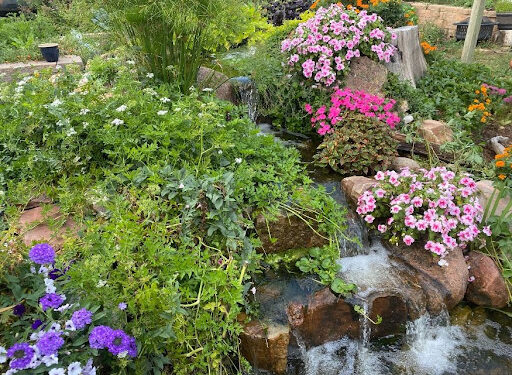 Check out these pictures.
It's hard to believe that these are pictures of the same pond, but they are! The top picture was taken of our backyard pond in 2018 when it was first built. Then, the photo underneath is of the same pond in September 2021.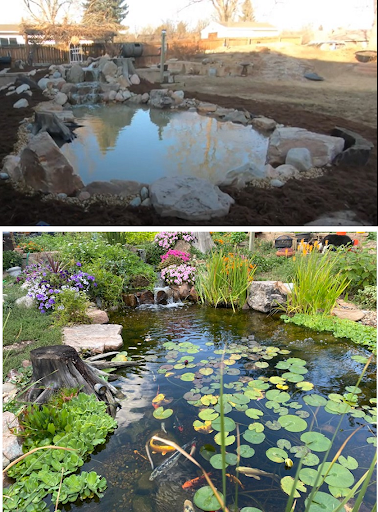 Too Many Rocks?
Sometimes when people are having a pond built they get very concerned about the exact look of the rocks. While nice-looking rocks are beneficial, a lush green pond will draw the eyes away from those rocks!
A new pond will look rocky and that is okay! Winter ponds may look rocky, too, but it will also look gorgeous when it snows.
When should you add plants to your pond?
The sooner the better! There are many aquatic plants that will return year after year in Colorado. The United States Department of Agriculture (USDA) has divided the country into different "hardiness zones" or areas with a certain range of "annual minimum temperatures." Most of  Colorado is considered Zone 5 (-20°– -10°F). When purchasing plants, look for plants that thrive in Zone 5 or 4. If they are rated Zone 6 or above, they will not live through the winter here. 
The easiest time of year to put in new plants is mid-May. That's when the aquatic plants come into your local plant nurseries. Annual plants, especially, should be added at this time to get the most enjoyment from them for the season. Although, if you are lucky enough to run into aquatic plants mid-summer or even early September, go ahead and seize the moment! They will die back in the winter but will likely come back beautifully next year.
Invasive plants
Watch out for invasive plants! They can be great natural filters and bring interest to the pond as long as you are aware that you need to keep them in check. Here is a list of invasive plants to keep an eye on:
Water celery
It spreads and spreads, but it also creates a nice lush look. Water celery will produce small white flowers. The flowers can be seen on the left side of the photo above.
Cattails
If you really love cattails, get the miniature ones. They are still large and invasive, but a little less so.
Irises
Yes! If left unchecked irises can spread and get into places that you don't want them. They are fantastic filters, just keep them from spreading too much.
Bullrush
Bullrush is also a great filter but can get out of hand if left alone. Consider adding them to the pond in a pot.
Pickerel weed
Pickerelweed (also referred to as Pickerel rush) can spread a bit, but it can be removed pretty easily.
Pro Tips:
Find a way to add more plants!
When you add plants, take them out of the pot (sometimes it is better to keep a plant potted, like if you want to keep lilies from going nuts) and plant them in crevices or make a shallow area using other rocks and 3/4″ gravel.
Read the label that comes with the plant and follow those directions.
If you see duckweed (a small, green, aggressive pond invader) on a plant that you have purchased, gently wash it off before adding it to your pond, and pick any leftover duckweed off to keep it out of your pond.
How else can Colorado Pond Pros help you?
We are always thinking of new ways to help our clients and other backyard pond aficionados! Whether you're looking for pond maintenance, pond landscaping, pond cleaning services, or just some friendly advice from your local pond experts, we're always here for you. Contact us today!
And while you're here, take a look at our blogs Our Friend Pickerel Rush and Water Hyacinth—A Workhorse in a Colorado Pond.