The leaves of the water lily last for 3 to 4 weeks. Then it turns yellow and brown and then gets mushy and sinks. This is a normal part of the life cycle of lily pad leaves. The plant will produce more leaves as older ones die off.
If your lily pad gets black or burnt looking spots on them that may not be normal. When it is really hot (yes, it has been really hot here in Colorado lately; ask anyone without an air conditioner!) if the pads get splashed or sprayed with water, it can sit on the leaf and act as a magnifier. This can burn small places on the pads that look like brown or black round places. This can also happen from fish food that lands on a pad and then stays there too long.

Things to know about hardy water lilies :
10 inches of water above the soil line.
Lilly pads will flower more when they have at least 6 hours of sun daily.
A lily pad flower lasts for about 4 days. It opens in the morning when the sun is starting to get bright, about 9:00. It closes up about 5:00 and will reopen the next day.
When lily pads are purchased at a nursery, they need to be repotted into a wide pot. Let us know if you need more information about potting! They should be fertilized too!
When purchasing lilies, know that if it called a "red" lily, it is usually dark pink, not cherry red!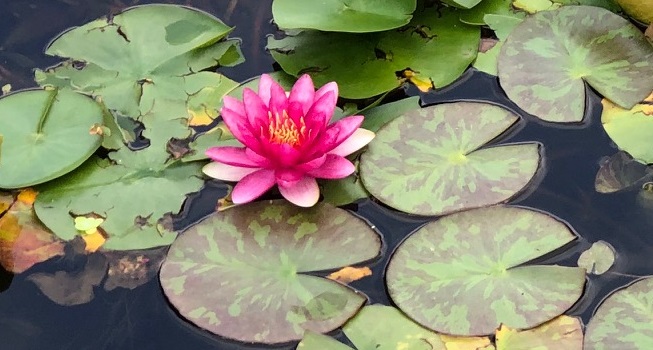 To read more about hail and your pond click HERE.