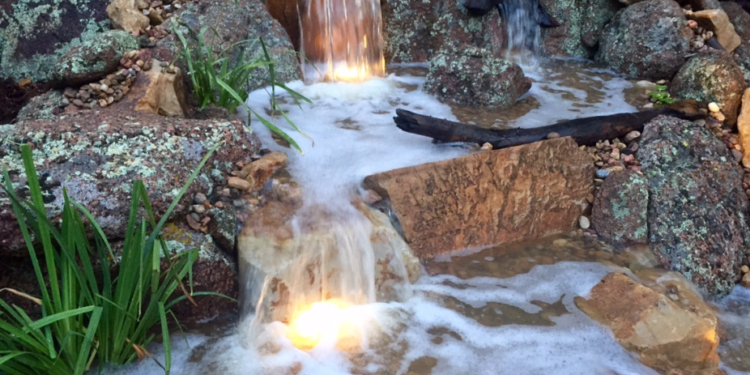 4 Causes of Pond Foam
There are several potential things that could be causing this white foamy stuff.  If it's green, it's algae!
Organic Material – The most common cause of foam buildup is organic material in the pond. Organic material buildup is leaves, uneaten fish food, gunk or even a dead fish!  These things may not have dissolved into the water and can cause foam.  Removing them is a good start to get rid of foam!  Make sure you are not feeding the fish too much.  They should be able to eat what you give them within a few minutes.  Remember they can munch on algae and bugs too, so feeding them everyday is not mandatory.  Adding Foam Free by Aquascape can help, but to really get your pond in balance, add beneficial bacteria on a regular basis.  If this is a consistent problem, you may want to check with a professional to see if you have the right filtration.
New Liner – If you have recently had the pond or stream installed or relined, it could be the off-gassing of the liner.  This will dissipate in a few days.
Spawning Fish – If your pond is the perfect environment for fish…..they might be feeling a bit frisky.  This spawning can cause large amounts of foam.  Don't add products in the pond at this point.  You'll need to wait until they stop spawning.  Did you know the babies are called "fry"?
Soap – Once in a while someone puts soap in a pond.  This gets crazy nuts with bubbles.  If this happens, you'll need to do a water change right away!
Want to learn more about keeping your pond in balance?  Click HERE! Scroll to find a variety of topics you may be looking for!