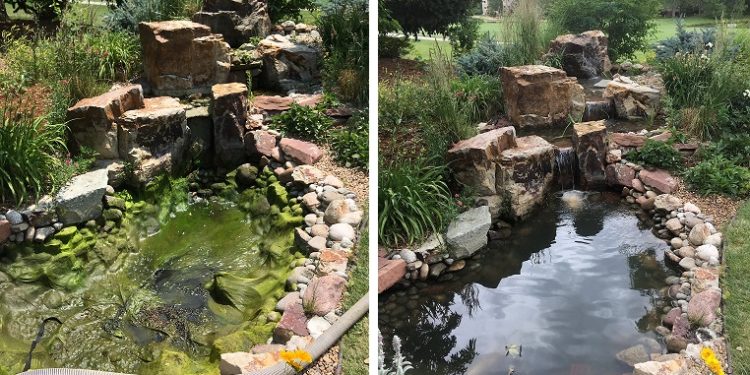 Pond Cleanout – Before and After pictures are a great way to see the difference.
Are you wondering how much a difference a pond cleanout makes? They say a picture is worth 1000 words!
Ponds are small ecosystems within themselves. We strive to create a balanced ecosystem. When we do a cleanout we:
Remove any fish and put them in a portable pond that we bring

Remove water from pond

Pressure wash waterfall, stream, and pond

Remove all debris

Clean skimmer and biofalls

Cut back plants as requested

Fertilize water lilies

Divide lilies if they need it

Check for proper operation of all equipment

Restack disturbed rocks

Refill pond

Treat water with beneficial bacteria and detoxifier (for the safety of the fish)
Care of a pond after a cleanout
Please keep in mind that after a cleanout beneficial bacteria needs to be added 2 days afterwards and again in another 2 days. We add some before we leave. After that it will need to be added weekly. Beneficial Bacteria is an important part of a pond's ecosystem and keeps it from getting green!
If your pond develops an algae bloom or becomes green and cloudy at some point after a cleanout, it does not mean that the cleanout wasn't done well. It simply means the pond is not in balance yet. Give us a call to discuss how to get your pond in balance or refer to the paperwork our pond technicians left with you.
Please remember that the use of algaecide can also disrupt the balance of a pond. It removes oxygen so that the algae dies, but it also kills beneficial bacteria and can even kill fish. It makes establishing a balanced ecosystem difficult! Check out more information about algaecide HERE.
Leaks or fish loss
Colorado Pond Pros has years of experience cleaning ponds. We treat your water feature as if it were our own! Technicians must walk in, near and around water features when cleaning or other work is being done – it is unavoidable! That being said, if we did not install your pond we cannot control the quality or manner of the installation of the lining or underlayment, the age of the pond, the quality of the existing electrical wiring, or the health / condition of fish before we arrive. We cannot be held liable for fish loss or leaks due to these conditions beyond our control.