Backyard Swim Ponds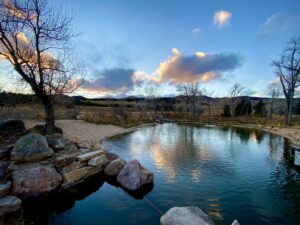 If you are anything like me, your childhood memories include going out to the lake or local pond for family gatherings. Jumping in the water with the cousins and stopping for the barbecue lunch made the summer days absolutely joyous! 
Those delightful days can be shared with your children and grandchildren when you choose a natural swim pond instead of a pool. Many families strive to stay away from harmful chemicals in their daily activities. Swim ponds are becoming more and more popular as they offer not only a great place to swim but a unique and beautiful centerpiece to the landscaping. We bring the stunning beauty of nature right to your backyard!
What Does A Swim Pond Look Like?
We mimic natural ponds and waterfalls when we build your backyard swim pond. Using local mountain boulders, we are able to give the look one might see at a mountain stream or pond. Liner and equipment are completely hidden and plants give it a lush look. 
How Deep Is A Swim Pond?
Most swim ponds are anywhere from 4 feet to 6 ½ feet deep. The pond itself does not have straight sides going down like a pool usually has. We build it in levels so that as a person enters the pond it is quite shallow and gets deeper gradually. This way there are plenty of places to sit in the pond at a comfortable level as well as places to swim into deeper parts. The shallows of the pond are perfect for children and dogs to play in. 
How Long Does It Take To Build a Backyard Swim Pond?
Construction of a swim pond may take 2 weeks to 2 months. Existing conditions and size of the project will determine the length of the project. 
We are ready to create something out of this world for your outdoor living space!
Give us a call at 303-834-7961! 
OR
Complete either of the request forms below:
The Big Question—How Much Does a Backyard Swim Pond Cost?
Enter your email to find out the common cost of a swim pond!
Request a Custom Estimate for Your Swim Pond
Fill out the form below and we'll contact you with a free estimate on your backyard swim pond!