Our team brings a great work ethic, and artistry to your pond!  See below for more about our fantastic people!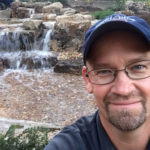 Mike Herrman, Owner and Designer
Don't be surprised if you see this guy staring at large boulders during your pond build!  We like to say that he talks to the rocks!  Creating beautiful waterfeatures is his passion!  He grew up here in Longmont, Colorado with the Rocky Mountains as his inspiration to get him where he is today.
Lisa Herrman, Owner and Vice President
Lisa keeps us straight at Colorado Pond Pros.  In her spare time she works 40 hours a week as a Librarian and teacher in a local middle school.  Loves to read and sit by the pool.... any pool!  She loves to cook and sit by her pond.
Kristi Smith, Director of Business Development
Kristi finds ways to keep us as efficient as possible and keeps the office in good order. Kristi grew up in Colorado and loves to play tennis!
Garrett Heintzman, Lead Technician
Garrett came to Colorado from Minnesota.  He loves to have fun out in the sunshine!  When he isn't building or working on ponds he can be found in the mountains, hiking, biking, camping, snowboarding and even fly fishing.  Wondering what his favorite food is?  It's seafood!  (don't worry, he doesn't eat koi!)
Barry DeBoard, Lead Technicican
Barry, originally from Texas tried out several states before coming to Colorado.  He's lived in California and Alaska to name a couple.  He thought Alaska had too much snow, so he thought Colorado could provide the outdoor experience and less shoveling.  He is a lover of the outdoors and even teaches Yoga  in his spare time!  He has been an arborist as well as a landscape artist.  His love of the outdoors fits right in with the pond scene!
Joe Holohan, Lead Technician
Joe is originally from New York city and  grew up in Connecticut.  He has always had an interest in landscape construction. In his spare time he can be found at his local gym pumping iron, snowboarding or mountain biking.    He isn't just a mountain guy, he is also a surfer, a certified scuba diver,  and a sailor (he used to race)!  His love of water and the outdoors makes him just the right pond guy!
Miles Love, Pond Tech
Miles is not only a fish guy, but a horse guy too!  He has a passion for saving the Mustang!  He gentles them and helps to find them homes.  Because horses and fish just aren't enough, he does foster work with pit-bulls too!  Brazilian Jujitsu keeps him fit and when he has time he might be found fly fishing.
Kyle Walters, Pond Tech
Kyle is from Wisconsin and can't seem to wipe that smile off his face!  Colorado helps him live his dream of enjoying the great outdoors on a regular basis.  Camping, hiking, snow boarding, biking and anything to do with the great outdoors and he is in!
 Jeremy Jenkins-Jones, Office Assistant
Jeremy grew up in Boulder.  After a couple years in college baseball he finished up his degree in London.  Shortly thereafter, joined the Airforce, serving 6 years and 3 tours in Iraq.  Jeremy is an avid reader and crossword puzzler when he is not golfing or enjoying the mountains.   We are glad to have him on our team!